Just because we're not millionaires doesn't mean we can eat like them, right? Just because they have more money than we do doesn't mean that we can't enjoy a few million dollar dessert ideas.
I want to let you in on a little secret: Million dollar desserts are, most times, super cheap to make. I'm serious. Some of the best dessert recipes that I've come across taste like a million bucks but really only call for a few simple ingredients. It's pretty crazy.
But let me back up for a second here. You must be wondering, "What does she mean by 'million dollar dessert ideas'?" Well, I'm talking about the richest and most decadent desserts you've ever tried. Treats that are incredibly sweet, smooth, and creamy. Desserts that, if you didn't know what goes into them, you'd think cost an arm and a leg to buy or make. That's what I mean when I say "million dollar desserts." They're the best desserts that you don't need a ton of money to buy.
I've rounded up a few of my favorite rich and creamy treats. They're sure to make absolutely everyone feel like a millionaire with just one bite.
The Best Million Dollar Dessert Idea:
Trillionaire Bars!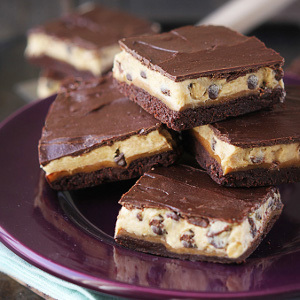 This dessert bar recipe has it all: a brownie layer, a chocolate chip cookie dough layer, a bit of caramel, and sweet chocolate. It's so heavenly that, after a single bite, you won't know what hit you.
Other Deliciously Easy Dessert Recipes
Copycat Mrs. Field's Sea Salt and Caramel Chocolate Chip Cookies
Millionaire's Cake
Furr's Cafeteria Pineapple Millionaire Pie Copycat – The best million dollar pie recipe around!
Millionaire Tuxedo Fudge
Copycat Neiman Marcus Brownies
Gooey Billionaire Bars
Cracker Barrel Copycat Chocolate Cherry Cobbler
5-Minute Millionaire Pie
Million Dollar Hot Fudge Cake
Million Dollar Peanut Butter Cups
Million Dollar Frosting
Millionaire's Marshmallow Fluff Cake
Million Dollar Layered Shortbread Bars


In the mood for another taste of the millionaire lifestyle? Check out "Super Saver Yarn to the Rescue!: Free Crochet Afghan Patterns That Look Like a Million Bucks"!
If you were a millionaire and could have an endless supply of one dessert, what would it be?

Related: Like copycat dessert recipes? Then you'll love 9 Types of Copycat Girl Scout Cookies: Your Favorite Copycat Girl Scout Cookie Flavors!