I have a confession to make: I just recently learned how to crochet (and by "recently," I mean that I had my first crochet lesson on or around December 9th, 2014). While I had done some crafty things in my life before that, I had never done anything as "complicated" or satisfying as crocheting.
I'm here to tell you that I'm now obsessed with crocheting.
I go to bed with images of double crochet stitches in my head. I can't keep my hands from trying to repeat the crocheting motion over and over again (even when I don't have a hook or yarn in my possession at that moment). I just want to crochet everything ever. Part of me feel like I should admit that I have a problem, but loving to crochet isn't really a problem. It's a triumph.
But it took me a while to get the hang of crocheting. In fact, the day that I started was a day full of tears. I had a hard time holding the hook and, once I'd finally get control of the hook, the yarn would slip off. I was a mess. I was so frustrated because I wanted to do well and I wanted to be good at crochet, but I didn't realize how difficult it would be to do at first. Some of the difficulty I was having could have been due to the fact that my first ever crochet project was this lovely slouchy beanie and not something simpler like a scarf. But, it still pretty much was one of the best easy crochet patterns.
As hard as the first day was, I was back at it the next day, chipping away at my bright teal hat. The second day went a bit smoother (and didn't provoke any tears whatsoever), but I still had my fair share of difficulties. After that second day, though, I started to speed up. I got control of my hook and was able to complete rows more efficiently and confidently. I was even able to start understanding what the pattern said!
Once I gained my confidence, I had my hook, yarn, and beginnings of my hat at my side constantly. I crocheted in bed, on the couch, and even during a family gathering on Christmas. Nothing was going to stop me. Well, nothing except for the fact that my yarn was slightly thicker than the yarn used for the blogger's photo. But, after receiving a bit of advice from a friend who happens to be a crochet pro, I decided to cut out a few rows and skip to the last few rows of the hat.
Confession #2: Work has been a bit crazy so I haven't had the time to finish my hat yet. It's killing me inside (especially since my hat is sitting on my desk within reach) but I at least know that I'm able to do it. I can't wait to have the spare time to wrap that baby up and wear it proudly.
If there's anything I've learned about crochet in the past month and a half or so (besides, you know, how to actually do it), it's that one skein crochet patterns are easy crochet patterns. The pattern that I used for my hat was a one skein crochet pattern. (I know that now!) If it hadn't been, I probably would have had even more trouble with the hat than I already did.
Even though I'm not finished with my teal slouchy beanie just yet, I'm already look for more easy crochet patterns to do next and they're all (you guessed it) one skein crochet patterns. Want to crochet along with me? I'm eyeing one (or a few) of these to be my next project!
Chunky Crochet Cowl
Mustard Key Tab Fingerless Gloves
Simple Crochet Rose
Crochet Coffee Cozy – Which I'd use for my travel tea mug! 🙂
1/2 Skein Crochet Cowl
Warm Crochet Beard – Because it's hilarious and can get chilly here in Chicago!
Then, once I can master those, I'm definitely doing this one! #IAmGroot 😀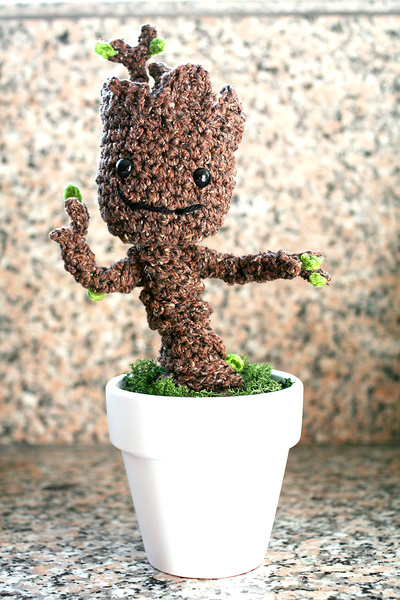 What was your first crochet experience like?