There's nothing more gorgeous than an autumn day at twilight. I love taking a stroll around my neighborhood as the leaves blow around, seeing all the hazy colors of the season. It's even more beautiful when I pass yards with the perfect mood lighting—twinkling lights or hanging lanterns. Beautiful outdoor lighting definitely adds to the magic of autumn.
Now that we've passed Labor Day and we've nearly passed through back-to-school season, we're officially in the thick of autumn seasonal decor. Just yesterday I saw some adorable Halloween crafts at Michael's. I know some people are bummed about summer drawing to a close, but since autumn is my favorite season, I'm not complaining! It's nice to have everything you need to decorate at the start of the season, instead of missing out on the first few weeks. If you make your own fall crafts, that's an even better reason to get a head start.
You probably already have a fabulous fall decoration handy—mason jars. Mason jar crafts were so popular this summer, and I'm sure you have some leftover (or you can re-purpose them for fall). My favorite mason jar craft for fall is hanging lanterns. It's so easy to make outdoor lighting with mason jars, and you can get really creative so that it fits your space.
Get ready for a gorgeous, twinkling porch or garden this autumn by making our collection of mason jar crafts. Here's our magical fall preview!
Our Magical Fall Preview: Hanging Lanterns and Other Mason Jar Crafts
Jack O'Lantern Mason Jar Ideas
Glowing Mason Jars – My favorite!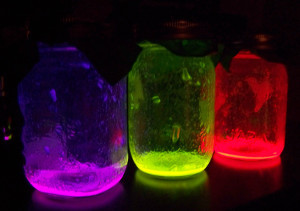 Autumn Mason Jar – Sooo pretty!
Moon Over Mason Jar Light – Perfect for the backyard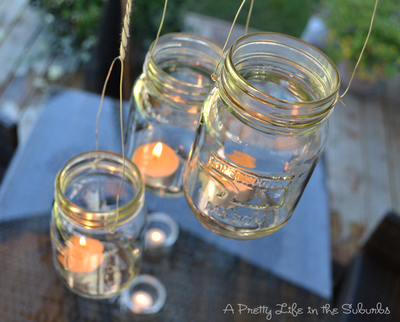 Golden Glam Mason Jar Chandelier – EPIC.
Dreamy Mason Jar Table Lanterns
What's your favorite mason jar craft? Let us know below in the comments!