You know, when most people think of homemade candy recipes, they think mainly of chocolate bars like Snickers and Kit Kats. Those are all fine and good (and delicious), but I find myself thinking of different candies. While others are dreaming of chocolate candy recipes, I'm dreaming of penny candies.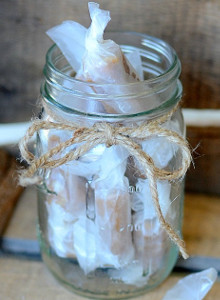 The funny thing is that I didn't even grow up during the height of penny candy. Sure, I'd always visit the candy shop in my local mall and load up on as many candies as I could, and I'd love receiving these candies in my Halloween pumpkin bucket every year. However, by the time I was growing up, they were no longer super cheap candies. They were still cheap, to be sure, but they weren't one cent. Such a shame.
It's been years since my favorite mall candy store has closed down, unfortunately. However, since then, I've been whipping up my own homemade candy recipes. Homemade Pixie Sticks, candy dots, and even a few hard candy recipes: I've made (and loved) them all. I even found a rock candy recipe that holds up to the treats I can buy from candy shops. The best part about making my own treats is that it's helping me save money in the long run. Homemade candy recipes make for great budget-friendly treats.
If you're looking for easy candy recipes that'll provide a giant helping of nostalgia, then you definitely can't miss these penny candy recipes. You won't be able to stop yourself from loving them.

1. Homemade Candy Dots
2. Candy Store Gumdrops
3. Homemade Pixie Sticks
4. How to Make Homemade Gummy Bears
5. Homemade Candy Necklaces from Bakingdom
6. Surprise Tootsie Roll Pops
7. Homemade Rock Candy
8. The Best Homemade Caramels
9. Colorful Old-Fashioned Butter Mints
10. Homemade Honey Candy from My Recipe Magic (Tastes like Bit-O-Honey!)
11. Homemade Hard Candy
12. Homemade Jelly Beans
13. Homemade Cow Tales from SprinkleBakes
14. 2-Ingredient Homemade Caramel Apple Pops
15. Simple Licorice
16. DIY Salt Water Taffy from Vanilla and Lace
17. Copycat Candy Corn
18. Super Easy Lollipops
Want a few more old fashioned recipes? Take a peek at our favorite Little Old Lady-Inspired Recipes!
What was your favorite kind of penny candy when you were a kid? Let us know below in the comments!
Related: 10 Easy & Cheap Homemade Candy Recipes