Fall is one of our favorite seasons, and it would seem that the readers of Cheap Eats and Thrifty Crafts agree. Below we have brought you all of your favorite projects and recipes for autumn. These reader favorites include cute crafts for Halloween, comforting recipes that can also take you into winter, and more.
Reader Favorite Fall Crafts:
1. Precious Pumpkin Jar Vase (shown above, left) – This homemade Halloween decoration is so simple to make. All you need is a mason jar and a bit of paint! This craft is so easy that even your kids can help with it.
2. Halloween Mason Jar Ring Wreath (shown above, right) – Our readers have loved this wreath since the beginning of September. This is a great way to use up lids that are leftover from other mason jar crafts.
3. Circle of Leaves Wreath – Give your front door a handmade touch with this Circle of Leaves Wreath. No one will believe that you knit this beautiful wreath yourself.
5. Dollar Store Leaf Wreath (shown above, left) – It may surprise you that you can make a gorgeous Thanksgiving decoration for less than $10. Using supplies from the dollar store is the secret to making this fun and festive wreath.
6. Rustic Framed Pumpkin Wreath (shown above, right) – When everyone is buying expensive wreaths to hang on their door this season, you'll be glad that you can make your own. This Rustic Framed Pumpkin Wreath is gorgeous and unique.
7. Homemade Infant Ugg Boots – It's easy to dress in high fashion when you can whip up knockoff pieces. These Homemade Infant Ugg Boots are ridiculously cute and sure to keep little feet warm all through fall and winter.
Bonus! Reader Favorite Autumn Recipes: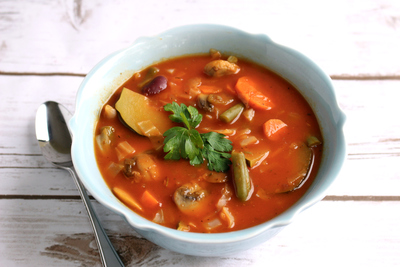 1. Copycat Panera Bread Broccoli Cheddar Soup
2. 3-Ingredient Homemade Bread

7. Magic Healing Soup (shown)
What are your favorite crafts and recipes to make during fall?