You're on the brink of the summer season. Along with the sun, ice cream, and happy couples in the park, you see a parade of your friends' brand new summer wardrobes. It's so great that they can afford fresh, fashionable clothes. In fact, you're thrilled that they feel good about themselves in their brand new threads. The best you can do is smile at their fanciness while you spend another three months wearing the seat of your hand-me-down shorts to transparency.
Better pray that your underwear is in better condition than those shorts…
But then you remember: you're a thrifty crafter.
Your penny-pinching saviness has come to your rescue more than once. From your duck-taped kitchen cabinets to the paper lunch bags your kids reuse every day, you know how to get the biggest bang for your buck. Why shouldn't your wardrobe receive the same savvy attention as the rest of your life?
Refashion Clothes for a Fresh Look
While AllFreeSewing features tons of thrifty patterns, we've pulled together one feminine look for the summer. Take it as a sample of what you could accomplish by browsing through our collection of patterns. This upcycled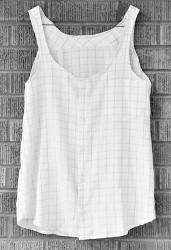 outfit will make you feel like you're wearing a brand new getup straight from Michigan Avenue. You can spend as little as $0 transforming an old top into something brand new for your closet.
Start with the top. Any old button-up shirt will do to make this DIY Tank Top. It's perfect for the summer because it's light and breezy. Take it from your hubby, your boyfriend, your brother, or your old work uniform. This shirt will be a staple in your summer wardrobe.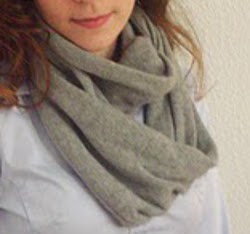 Although it's summer, an occassional coldfront poses a problem for the chic dresser. It's always helpful to have a flirty accessory to keep you comfortable when the sun takes the day off in June. As a thrifty crafter, though, you're too smart to spend fifty bucks on a wee little scarf. You know to turn your spit-up stained sweater into an Infinity Scarf.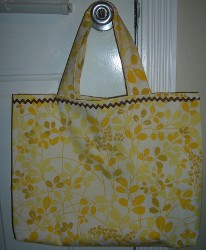 What about bags? The answer is simple. Look in your linen closet. See that pillowcase from a million years ago? It's unsanitary to continue putting your face on that. Stop it. Instead, transform your pillowcase into what scientists have discovered is the germiest place on earth: a woman's purse. The Pillowcase Bag pattern can be found here; you're welcome.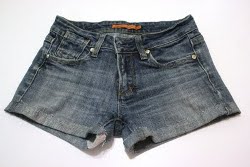 Thank goodness worn-out, vintage-style apparel is back in full swing. DIY Cut Off Jeans Shorts are the easiest trick in the book for thrifty crafters. These shorts couldn't be easier to make. For the "worn-out" look, simply take a pair of your oldest, ugliest, worst fit jean pants, follow this tutorial, and voila! You look like you spent an arm and a leg on the pants you've had for at least a decade.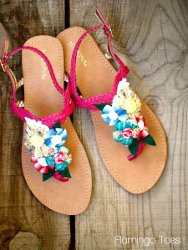 Ah, yes, the shoes. These are vital to a fetching look. Shoes can make or break an outfit. This is where you step up your game as the thrifty crafter and decide how you'll refashion a pair of sandals, flip-flops, flats, or hunting boots (if that floats your boat) into fresh-looking footwear. We suggest these Tropical Blast Sandals as a starting point.
Presto! An entirely new outfit and you didn't even hit the mall. It shouldn't cost you anything to look and feel great. Try out these patterns and browse through more of our upcycled and refashioned sewing projects so that you can revamp your wardrobe.
What are you going to refashion this summer?