Face it. We all want creative and clever ideas to save money.
More money meas that you can save up for whatever you've been lusting after (a new sewing machine or new sewing supplies perhaps?).
Well, even if the economy may look bleak, let's look on the bright side. You can save a lot of money through quilting. In particular scrapbuster and stashbuster projects that use fabric scraps from your collection are a great way to cut your fabric costs.
But what can we make with fabric scraps? And what if the patterns clash? Luckily, the answer to both of these questions is quite simple. WE CAN MAKE SO MANY COOL THINGS WITH FABRIC SCRAPS. And, the patterns won't clash at all. Rather, you'll get a deliberate eclectic look that will give your home a personal touch. (Because where else can you buy a one-of-a-kind scrap-a-licious quilt?)
Back to the first question though: what can we make? This blog post will offer you Ridiculously Cheap Quilt Projects: 15 Ideas to Save Money. You'll find small quilt projects, like quilt blocks, as well as large-scale quilts and DIY throw pillows. Each pattern is FREE, so why not check them out?
Tell us at the bottom of the article which patterns you liked. We love your feedback because we love you, dedicated seamstresses!
Dirt Cheap Quilt Block Ideas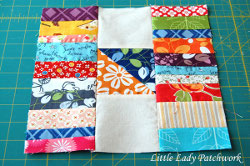 1. Stacks & Stacks of Scraps Quilt Block
2. Speedy Scrappy Improv Quilt Blocks
3. Half-Square Triangle Tutorial
Inexpensive Quilts to Make
6. Classic Memories T Shirt Quilt
8. Country Denim Quilt Pattern
Better than a Bargain Basement: DIY Throw Pillows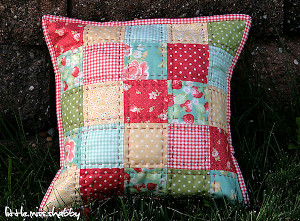 11. Country Home Patchwork Pillow
14. Stashbuster Nine Patch Pillow
15. Raggedy Country Nine Patch Pillow
Share Your Quilting Experiences with Us. What Stashbuster Project Are You Most Proud of? Comment Below!