Quilting can be an expensive craft, especially when it comes to fabric. The editors at FaveQuilts have been searching the web to see what kind of alternatives there are out there are quilters working within a budget. We were excited to have found a number of impressive scrap quilt patterns that come in all shapes and sizes, and would like to share with you a few of our favorite options. Start fresh with a new quilt block, or simply find a way to organize your fabric with these tutorials below:
Color Wheel Block – This quilt block pattern has already seen an impressive amount of popularity in a short amount of time. It utilizes the easy-to-construct geometric design for the Kansas dugout to piece together half-square triangles from your scrap quilt collection. When these quilt blocks are put together, they make a beautiful interlocking design that easily draws attention. Just think of how much your quilt will stand out if you make a pattern like this using a whole rainbow of colors!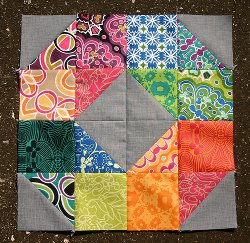 Chickadee Pincushions – Here's another project that has been blowing up on our social media channels, and any crafter who works with fabric can enjoy this. This is the ideal project for when you only have a few scraps that you're looking to get rid of, and the benefits will last you a long time. Small quilt projects this adorable will make great gifts for any of your fellow needle crafters in need of some easy organization, or you can make one for yourself to have around whenever you're working on a quilt. The tutorial for this scrap quilt project has some very creative variations, so you can end up with a whole basket of uniquely scrappy chicks in no time.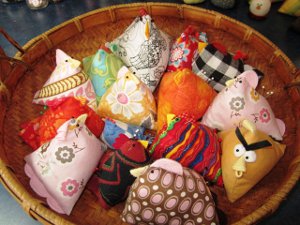 Baby Bricks Quilt – When you don't have a lot of fabric, but want to try making a full size quilt pattern, this baby quilt pattern might be a good place to start. The pattern is open to different color schemes and is designed for beginners, so anyone can try it. Try something a bit unconventional in design that still uses basic quilting techniques. You can even dress this scrap quilt up with some free motion quilt patterns. Any little baby would love to lie on it.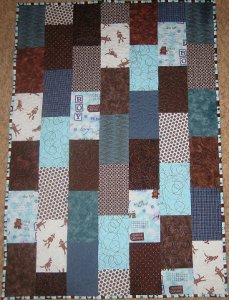 Crumb Quilt – For something more complex, you'll need a lot of fabric! Your "crumbs" can be stitched together into unpredictable quilt blocks that will really pop with bright colors. This is another scrap quilt pattern that's very open to the way in which individual quilters design their quilts.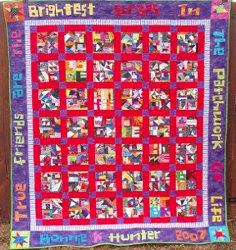 Super Simple Fabric Catcher – Your scrap quilts can even help organize any future scraps you may end up having. The leftover pieces of a jelly roll are perfect for making a sturdy, but stylish fabric basket to keep beside your quilting station. You can stay organized without having to take up extra space in any of your drawers or closets.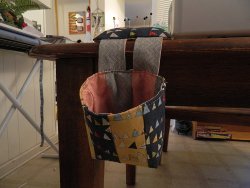 What's your favorite use for fabric scraps?