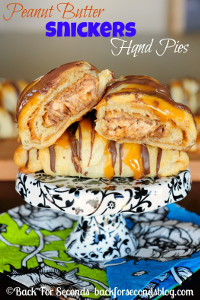 For a lot of dessert recipes, making the dough or the base is half of the battle. It's what takes up the most of your time because once you pop your dessert in your oven you can just walk away and do something else. The base is also what you use the majority of your ingredients to make and it can sometimes call for quite a few of them.
However, what happens when you take a baking shortcut and use something pre-made as your base instead? You save yourself a lot of time, energy, and (generally) money, that's what! Instead of having to buy and use a ton of ingredients, you only have to use a handful. That's why recipes with cake mix are so popular!
But we're not here to talk about cake mix today. No, no. We're excited to share with you another shortcut to dessert-making: pre-made biscuit and crescent roll dough! That's right! We're talking about the kinds that you buy in a tube in the refrigerated section of your grocery store!
Don't settle for just making plain old Pillsbury biscuits and crescent rolls. The biscuit and crescent roll recipes below use the premade dough as a base and then turn it into something sweet and delicious! From "homemade" donuts to crescent pockets, recipes with crescent rolls and biscuits are practically endless. Seriously. There are so many new sweet treats waiting to be made from crescent roll recipes!
You can bake them, fry them, slather them with cinnamon and sugar and butter… Biscuits and crescent rolls are the perfect base because they don't have a strong flavor as-is. There are so many dessert possibilities, it's insane. I love how recipes made with crescent rolls and biscuits turn out super fluffy and soft, even when deep-fried.
Below are just a few of our super easy (and delicious) biscuit and crescent roll recipes!




1. Scout's Honor Tagalong Crescents
2. Cinnamon Sugar Donut Fries
3. Lightning-Fast Pillsbury Biscuit Donuts
4. Semi-Homemade Canned Biscuit Donuts
5. Bubblin' Cookie Butter Marshmallow Crescents
6. Simple Cinnamon Twists
7. Country Crescent Apple Dumplings
8. Shortcut Boston Cream Doughnut Holes
9. Quick and Easy Crescent Cinnamon Rolls

Have you ever made desserts from biscuit or crescent roll recipes? Tell us about them!