Spring is fast approaching, which means better weather and more time to spend outside. Get inspired by the sights and sounds of spring, and create fabulous natural jewelry pieces. These nature inspired designs are both thrifty and chic. From stone pendants to earrings made with tree bark, you can make fascinating jewelry pieces inspired by elements you see outdoors every day. Even though we here at AllFreeJewelryMaking are not be able to thaw the ice and snow, we can help you create some stunning spring-ready, nature inspired accessories. Below you will find some of our favorite fun and affordable jewelry pieces inspired by nature.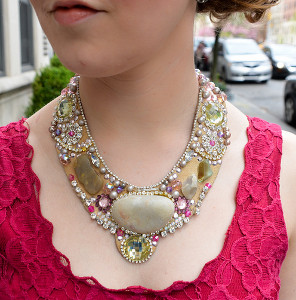 Make a major splash with this DIY statement necklace. This Ocean Stones Statement Necklace is a gorgeous necklace pattern that brings beads and chain to new heights of elegance. Use old beads, a few rocks, and scraps of chain to create an beautiful piece.
If you like this project, you can also try:
Browse more nature inspired necklaces here.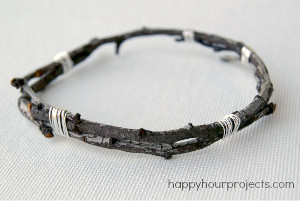 If you love trees, you'll love these Tree Branch Bangles. These crafty homemade bracelets use twigs and wire to create a unique brand of DIY jewelry. Use twigs as fuel for fashion, instead of fire, with this unique natural jewelry piece.
Other nature inspired bracelets you can try include:
Stone and Bone Bracelet
Naturally Glamorous Bracelet
Get more bracelets inspired by nature here.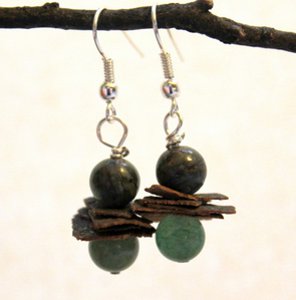 Turn bark scraps and earth-toned beads into an eco-friendly fashion statement with this Bark and Bead Earrings pattern. This organic jewelry project uses pieces of tree bark and green beads to create an accessory that is sure to impress. Tree bark is a delicate material, but it makes for a stunning design.
You can also try:
Pretty Petal Flower Earrings
Enchanted Forest Earrings
With all of these fabulous tutorials, you are sure to be inspired to incorporate nature inspired jewelry pieces into your own homemade jewelry collection. If you are still looking for the perfect spring jewelry piece for you, be sure to check out AllFreeJewelryMaking's collection, Spring Forward: 25 Spring Jewelry Designs.
BONUS: This collection features several natural jewelry pieces. Want to expand your skills in making these designs? Enter to win the Wire-Wrapped and Natural Jewelry Pocket Guides Giveaway! Learning how to make jewelry has never been easier than with these two helpful pocket guide books. If you have ever wondered how to wire-wrap jewelry, or how to make jewelry inspired by nature, these pocket guides are for you. Enter today to win this fabulous giveaway prize!  The deadline to enter is February 17, 2014, at 11:59:59 p.m. Eastern Time.