As much as I love baking dessert recipes from scratch, it's really, really hard to beat the allure of recipes with cake mix. Not only does cake mix make for a pretty delicious treat, but it also makes baking so easy!
Instead of needing a ton of different ingredients (which, to stock them in your pantry all the time can get a bit expensive), baking
recipes with cake mix
means that you only really need a handful of ingredients. I'm all about keeping it simple in the kitchen, especially when it comes to prep because, I'll admit, sometimes I forget to add ingredients to recipes because I'm trying to move too fast. But now I'm
baking with cake mix
!
What I really like best about cake mix recipes, however, is how many different varieties of dessert I can make with a single box of cake mix. Ok, no, I can't make a ton of different treats with the same box of cake mix, but you know what I mean, right? I can use cake mix to make cake mix cakes, cake mix cookies, dessert bars, cake balls, dump cake recipes… The possibilities are honestly almost endless!
These are just a few of my favorite recipes with cake mix that I've made (multiple times) in the past. Yes ma'am, I am all about that cake mix.
My All-Time Favorite Cake Mix Recipe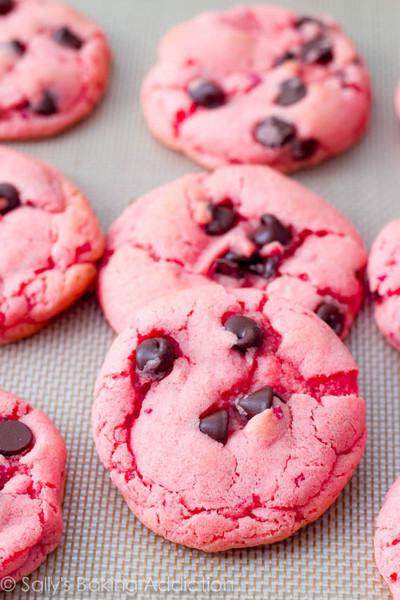 >> Sensational Strawberry Chocolate Chip Cake Mix Cookies <<
#OBSESSED
My Other Favorites
2 Ingredient Lemon Bars
Classic Dump Cake
Banana Split Cake Mix Cookies
3 Ingredient French Vanilla Peach Cobbler
Spiced Pumpkin Dump Cake
Strawberry Cool Whip Cookies
Irresistible Black Forest Dump Cake
2-Ingredient Raspberry Angel Food Cake
Tropical Coconut Cake
Gooey Butter Cake Mix Cookies
Just-Like-Mom's Apple Dump Cake
Two Ingredient Chocolate Coke Cake
Crazy Easy Peanut Butter Cake Mix Cookies
How to Make Pie Crust from Cake Mix (!!!)
Recipes with Cake Mix That Are On My To-Do List
Lemon Cheesecake Cookies from Countryside Cravings
Cake Mix Sour Cream Coffee Cake from Creme de la Crumb
Loaded Cookie Bars from Loaves and Dishes
Mint Chocolate Cake Brownie Cookies from Design Eat Repeat
Maple-Glazed Apple Crisp Cookies from The Recipe Rebel (Not really cheap, but I still want to taste these!)
What's the best cake mix recipe you've ever made?