The sun is shining, the flowers are blooming…and the kids are bouncing off the walls. We're not quite into spring weather just yet–February is still pretty chilly here in the Midwest–but that doesn't mean we can't find reasons to get excited for spring! If your kids are starting to drive you a little crazy and you can't take another day of dreary winter weather, these spring crafts for kids will be the ultimate remedy.
From flower craft ideas to rainbow crafts to pretty little butterflies, these spring kids' crafts will help your little ones beat their boredom and make the house seem more cheerful all at the same time. You won't even need to leave the house for most of these spring craft ideas, since you can make several of them with recycled materials. Making just one of these darling kids' crafts is sure to make you smile, and your kids will be thrilled to have some bright and colorful new craft ideas!
Rainbow Crafts
Once winter fades away, we're greeted with the vibrant colors of spring. That means there's no better way to celebrate spring weather than making rainbow crafts with your kids! From St. Patrick's Day on, rainbows are a sign that spring is here to stay. Try these cheerful (and cheap!) rainbow craft ideas:
Butterfly Craft Ideas
Butterflies are, without a doubt, the cutest symbol for spring! These dainty little creatures never fail to bring a smile to my face, even on a dreary day. Butterfly crafts are always a kid-favorite, too, since there are tons of different ways to make your own beautiful butterflies. If these butterfly craft ideas just aren't enough, browse our full collection of 25 Butterflies for Kids to Make!
Flower Crafts for Kids
What's the best part of spring? Seeing flowers bloom, of course! Making flower crafts with kids is such an easy way to get them excited for springtime, and there are endless ways to make a flower. Choose any one of these flower craft ideas and let your creativity blossom:
BONUS! How to Start a Garden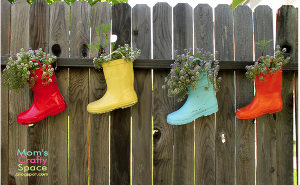 Springtime just isn't complete without fresh flowers! You can create a garden right on your windowsill if it's still too cold to plant outside, or you can try these DIY garden ideas:
What's your favorite way to welcome spring?