Bite-sized foods are the best, aren't they? Especially muffin tin recipes. Who doesn't love a great muffin tin recipe?
Not only are small treats easy to make and eat, but they're also easy to take with you if you're on the go. They fit so well in containers, the palm of your hand, your car's cup holders, etc. For busy moms, these are best kinds of treats to have on hand.
Plus, food sampling is so in right now (tapas, anyone?). So, because bite-sized foods are… well… bite-sized, you can try a bunch of different flavors and treats instead of committing to just one dish. I don't know about you, but when I'm at parties or out at a restaurant, I always want to try everything. I'm ashamed to admit it, but I sometimes will go around a table and ask for a bite of everyone's meal. I just can't help myself. There are just too many great foods to try!
So in the spirit of finger foods, I thought I'd share with you a few of my favorite muffin tin recipes and poppable desserts.
Muffin Tin Recipes

Mini BLT Bites – My absolute favorite muffin tin recipe!
Crispy Quinoa Bites – Great for parties!
Loaded Mini Pizza Bites (right) – Gotta love 'em!
Grab 'n' Go Ham and Cheese Bites – Kids especially love these!
Dessert Bites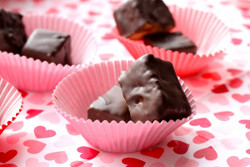 Blueberry Muffin Bites – Muffin-lovers will go crazy for these!
Back-In-Time Fudge –  This will make your mouth water just looking at it!
Chocolate Covered Cake Bites (right) – SO simple and SO good!
Psssst! We're giving away a muffin mix variety pack!
Which of these muffin tin recipes or dessert bites looks the best to you?