Unless there's a huge sale going on, it can be tough to find budget-friendly dinner recipes with ground beef or chicken. We know you want to make sure you're getting plenty of protein in your diet, but how are you supposed to do that when you've got to watch how you spend your money?
The Mr. Food Test Kitchen has the answer! Substitute a couple of ground beef or chicken recipes each week with a tuna recipe and watch those pennies add up. One of our favorite parts about making recipes with tuna is how you can stock up whenever there's a sale, and it'll keep in your pantry for ages. You'll always have some on hand the next time you need a spur-of-the-moment recipe.
We recommend making a few recipes with larger serving sizes and saving the leftovers to eat or re-purpose throughout the week. That way, you won't have to worry about cooking every night, and you've got easy leftovers to bring to work. Check out some of our favorite budget-friendly dinner recipes using canned tuna.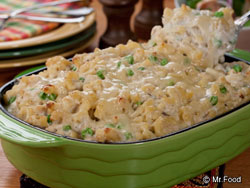 Family Favorite Tuna Noodle Casserole: This tuna casserole recipe is such a cinch to put together, and the addition of macaroni makes it a favorite of adults and kids alike.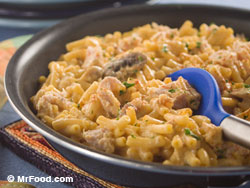 Macaroni Tuna Skillet: Throwing together a skillet dinner recipe at the last minute is one of our favorite tricks for getting a homemade dinner on the table in a flash. Plus, it cooks up in only 20 minutes for the ultimate weeknight meal.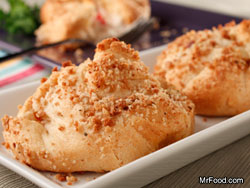 Tuna Dumplings: Dumplings are one of those comfort foods that stick with you throughout the year. Plus, we've included another of our favorite shortcut ingredients to make tasty cooking even easier than ever.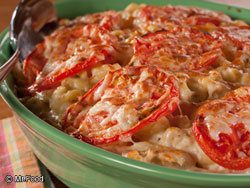 Tuna Melt Casserole: We've taken a classic lunchtime sandwich and turned it into one unbelievable tuna casserole recipe. This unusual twist on tuna casseroles is super when you're looking to go the extra mile.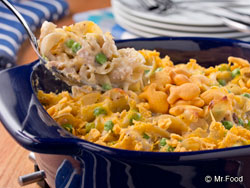 No Ordinary Tuna Casserole: We've added a nostalgic, kid-friendly ingredient to make this tuna casserole recipe a little something special. It adds a delightful and youthful twist to an old-fashioned classic.
So, what are you waiting for? Grab those cans of tuna and get to the kitchen. Your family (and wallet!) will surely thank you.
What's your favorite recipe to make using tuna? Let us know in the comments below!