Can you believe that Christmas is only five months away? We here at Cheap Eats and Thrifty Crafts can hardly wait! Personally, I think it's never too early to get ready for Christmas, so we are getting in the holiday spirit with these fun Christmas crafts and recipes. With these fun projects, you can get a jump start on your holiday crafting. Plus, who says you should only enjoy Christmas cookies in December?
To make sure that you never miss another budget project or recipe, click here to find out how you can sign up for our free Cheap Eats and Thrifty Crafts newsletter. With just a few clicks, you can have projects and recipes like these delivered to your inbox every week!
Christmas in July Crafts
1. Big Santa Belly Ornament – This cute Christmas ornament costs almost nothing to make. All you need to make this DIY Christmas craft is a few simple materials and a glue gun! Plus, it costs less than $10 to make this adorable Big Santa Belly Ornament.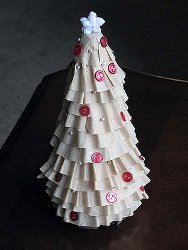 2. Cute Coffee Filter Christmas Trees (pictured) – One of the easiest ways to decorate your house for the holidays is with tabletop trees. With this easy project, you can turn an everyday kitchen supply item into an eye-catching Christmas decoration.
3. Toilet Paper Roll Tree Topper – No one will ever guess that this beautiful tree topper is made out of toilet paper rolls.
4. Sparky the Snowman (pictured) – Sparky the Snowman is almost too cute for words! You can personalize Sparky by dressing him up in a crocheted hat and scarf.
5. Dollar Store Stockings – These Dollar Store Stockings are so easy and affordable to make that you could make them for the whole family! These festive stockings would even make a great Christmas gift.
Christmas in July Recipes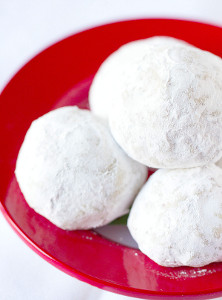 1. North Pole Snowball Cookies (pictured) – There is absolutely nothing better than a flavorful cookie that is coated in powdered sugar. These shortbread-like cookies are loaded with plenty of pecans and spices.
2. Magic Christmas Bars – You'll believe in magic after taking just one bite of these Magic Christmas Bars. These decadent chocolate treats are sure to be a hit any time of the year.
3. Christmas Morn Casserole – Christmas isn't the only time when a make-ahead breakfast casserole is delicious. Prepare this breakfast casserole recipe on a Friday or Saturday night and you can have a tasty weekend breakfast in no time.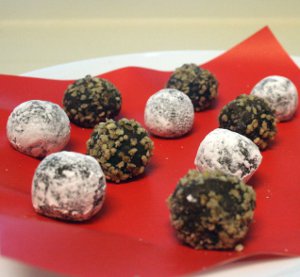 4. 5-Minute Chocolate Balls (pictured) – This no-bake Christmas cookie recipe is so simple to make. Because this recipe doesn't require an oven, you can comfortably whip up a batch on July 25th.
5. Christmas Crack – Crack is always in season, especially when it only requires 4 simple ingredients! Crackers are soaked in a mixture of melted butter and brown sugar before getting topped with chocolate. No one will be able to resist this addictive Christmas crack recipe.
What is your favorite part of Christmas in July?