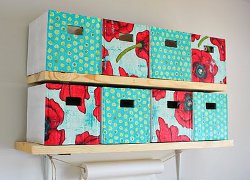 We crafters know that from time to time our creative habits can become a bit … well, pricey. When you're looking for a money saving solution that will still let you craft to your heart's content, there's no better place to turn than to recycled crafts. With it also being Earth Week, what better time to start saving money and recycling a few leftover materials than now? These recycled craft ideas are a great way to celebrate Earth Week, but they're also plenty useful for just about any time of year.  So what are you waiting for?  Dive on into this roundup of green recycled crafts and save some cash without having to cut-down on creating!
Recycled Paper Crafts
Recycled paper crafts are on the top of our list for two main reasons, paper is very simple to find around the house, and it's one of the easiest recycled materials to work with. Using paper scraps like junk mail, newspaper, and old tissue paper you can create fun decor like this adorable Recycled Party Bunting. If you're not looking to decorate for a party, these Fabulous Newspaper Roses are a great piece of handmade decor for the spring season. You could create a bouquet or centerpiece for the house and only spend pennies on it!
Recycled Crafts from Plastic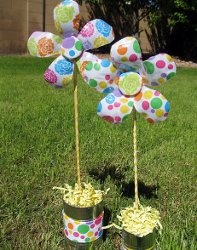 Old plastic containers can also serve as great craft materials. Instead of tossing bottles in the trash, you can make them into great outdoor decorative pieces like these Plastic Bottle Flowers for the Yard! You can really make just about anything from recycled plastic bottles. Try for a Colorful Water Bottle Wreath, or an impressive Flower Mobile from Plastic Bottles, there are so many options to choose from on our list of 35 Ways to Craft with Recycled Materials.
Crafts with Cardboard
Crafts with cardboard are another favorite of ours. It's hard to believe that wreaths and wall art made from toilet paper rolls can be just as gorgeous as other more expensive store bought options, but it's true! Take this Fabulous Wreath from Toilet Paper Rolls, it is always an eye-catcher, and it costs next to nothing to make. Try for a set of Refashioned Cardboard Storage Bins, they'll surely help with your spring cleaning. Another fun and simple craft from cardboard is the Toilet Paper Roll Wall Art, a great piece of decor for those of you looking for something other than a wreath.
No matter what type of craft you're aiming to make, you can always go for the more frugal, and eco-friendly option by using recycled materials instead of store bought ones. These 35 Ways to Craft with Recycled Materials will help you save money and the environment, during Earth Week and everyday.
What's your favorite recycled material to craft with?