I can't speak for you, but every time I see empty wine bottles, a few (or all) of these questions always spring to mind: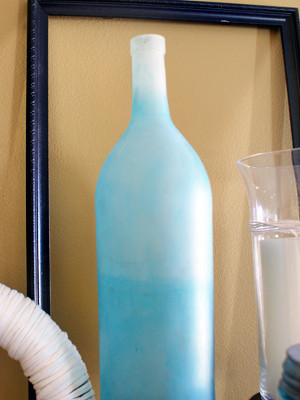 Where did all of these bottles come from?
Did I finish all that?
Who drank all that wine without me?
What sorts of wine bottle crafts can I make with these?
I'm not a huge wine fanatic, but I love the wines that I love. Moscato (and Pink Moscato) is my favorite by far. I'm a sweet-loving person by nature. Just ask my friends. They're always surprised when I choose sweet fruit-flavored candy over chocolate. I just can't help myself.
My favorite wine, however, happens to actually not really be wine at all. Well, it is, but not in the traditional sense. World Market sells this wine brand called Sweet Pea and it's wonderful. It's apple wine that's flavored with other fruits like peaches and passion fruit. I can't get enough of it.
Where was I going with this? Oh yes, wine bottle crafts. Though I'm not a giant wine aficionado, I certainly do collect my fair share of empty wine bottles. It's a good thing that I like crafting with glass jars and glass bottles. (I once made this hanging jar lamp out of a large pickle jar and a light kit from IKEA. It's quite possibly my favorite thing ever.)
Wine bottles are just so prime for crafting with. You can paint them, cover them in twine, stick lights in them, cut them into glasses… The possibilities are honestly endless. Plus, wine bottle crafts make for pretty impressive home decor and work nicely as gifts. That's why I'm constantly collecting empty wine bottles (my own and my friends') so that I can make cute things!
I've got a pile of empties in my craft closet just waiting to be repurposed and upgraded. Here are a few of the wine bottle crafts I'm planning to make with them!
1.
Bright Wine Bottle Centerpieces
2.
Wine Bottle Candle Shelter
3.
DIY Wine Bottle Hummingbird Feeder
from My So Called Crafty Life
4.
Wickedly Wonderful Wine Bottle Candles
5.
Way Easy Wine Bottle Light
6.
Chic and Shady Bottle Lamp
7.
Glamorous Golden Sequin Vases
8.
Recycled Wine Bottle Tiered Veggie Stand
from Saved by Love Creations
9.
Enchantingly Elegant Wax-Dripped Centerpieces
10.
Wine Bottle Address Lanterns
11.
Bold Bottle Tiki Torches
12.
Chalkboard Table Number Wine Bottle Craft
13.
Seaside Votives
14.
Frosty Ombre Bottles
15.
Illuminated Wine Bottle
16.
Wine Bottle Bird Feeder
from The Chilly Dog
With all of those empty wine bottles, you're bound to have a few corks lying around. Make use of those too with these easy crafts!
1. Homemade Stamps Wine Cork Craft
2. Air Plant Wine Bottle Cork Magnets from Green Thumb White Apron
3. Wine Cork Board
4. Pretty Pendant Charm Necklace Wine Cork Craft
5. Valentine's Cork Heart from Sand & Sisal
What's the coolest thing you've ever done with an empty wine bottle?