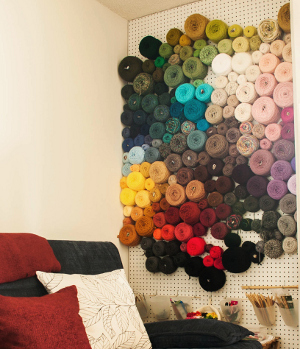 One of the reasons crocheting is so appealing to many crafters is the basic fact that making handmade can be a lot cheaper than buying items at the store. Plus, you get to add your own personal touch to everything you make. However, what if I had some tips that made your crocheting even better? Check out these tips on how to stay organized for cheap and how to make that cheap yarn soft enough for a baby blanket. Can it be? See for yourself!
The Best Yarn Tips
Make Your Own Yarn Organizer – While there are nifty yarn organizers out there, follow this crochet tip and Make Your Own Yarn Organizer. All you need are some large containers with lids and you will have no trouble at all making this easy and convenient organizer.
How To Recycle Yarn from a Sweater – While browsing a thrift store, you may come across some really cheap sweaters. With this tutorial, you'll learn How to Recycle Yarn from a Sweater to reuse and re-purpose the yarn to make new crochet projects.
Travel Cup Yarn – Ready to crochet on-the-go? Then you'll love this thrifty idea that will help you crochet in the car. The Travel Cup Yarn tutorial is really quite simple and effective for crocheters who just can't put that hook down.
Vertical Yarn Storage – We all know that there are plenty of ways to store your yarn, but this has to be one of the coolest ways we've seen! Vertical Yarn Storage will let you organize and store your yarn on the wall.
Soften Your Yarn – We like cheap yarn, but sometimes it's just too scratchy for things like crochet baby blankets. Soften Your Yarn with this neat crochet tip.
Tips for Beginner Crocheters – If you're just starting to crochet, these Tips for Beginner Crocheters are about to save you a lot of time and prevent unneeded stress.
How To Make a Center Pull Ball of Yarn – Ever wanted to make your skein of yarn easier to use? The How to Make a Center Pull Ball of Yarn tutorial will guide to making a center pull ball of yarn without having to have a store-bought yarn winder.
How To Avoid Stiff Crochet – Sometimes crocheting tends to create a stiff and not very comfortable feeling. Whether you're crocheting an afghan or making another crochet garment, How To Avoid Stiff Crochet will give you tips on what to do to make sure your crochet is flexible and comfy.
Do you have any thrifty tips for knitters and crocheters?